A creative adventure for kids!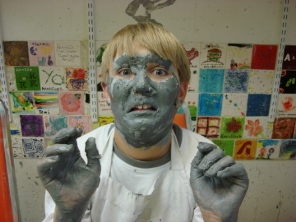 Parents Night Out is for children interested in a one-stop artistic adventure in
painting, clay sculpting and the pottery wheel experience.

Parents Night Out is the perfect opportunity for parents to leave their children in a friendly, safe environment where they will be artistically stimulated and entertained
while their parents enjoy a well-deserved evening out!

Parents Night Out is held the second Friday of every month. For only $40+tax which includes dinner. Projects vary month to month and can range from painting pottery, learn the pottery wheel, sculpt clay, canvas painting, wax hands, mosaic/wood projects and of course being SILLY!
It's the perfect opportunity for your children to express themselves artistically and learn age-old fired arts.

Quiggly's is open to the public during Parents Night Out, so if you want to stay and create on your own (or with your children), you are welcome to do so! Painting and mosaics are available to walk-in parents and friends.
Don't let Parents Night Out slide by or your kids will miss the most creative evening out- and you'll miss some
much needed time apart from your children. You could call it- "Parent's Night Out, Kids Night IN!"


Drop off at 6:00P.M., pick up at 9:00P.M.
Only $40+tax per child!
Ages 4+ Walk-ins always welcome. RSVP below…
$43.30